Premium meeting rooms and boardrooms
First impressions are crucial and a professional meeting room environment provides your pitch, presentation, workshops, training sessions and negotiations with the best chance of success. All meeting rooms and boardrooms are designed to the highest standards of interior styling, equipped with the finest leather, marble and original artwork adorn the walls of our prestigious meeting rooms. The latest AV and conferencing equipment, plus the reliability of lightning-speed Internet complete the refined luxury available to you.
Servcorp Home, our unique client portal, allows you to reserve meeting rooms, boardrooms and resources on the go and in real-time. In under a minute you can select and book a Workspace at any of our 160+ locations globally.
Pay as you go meeting spaces available
Starting from
Book meeting rooms and facilities on your phone
The 'Meetings' app is an easy-to-use smartphone application allowing you to book boardrooms, meeting rooms, office space and facilities from over 150+ locations with the touch of a button. In under 1 minute your booking is confirmed instantly - how easy is that?
Why you'll love the meetings app:
Fast - You can make a booking in less than a minute
Easy to use - Simple set-up process and user friendly functionality
Convenient - Book Servcorp facilities anywhere and anytime
Real time bookings - Once you tap "Done" your booking is in the system!
Free - The application is free for download from the iTunes or Google Play store
Download the app now: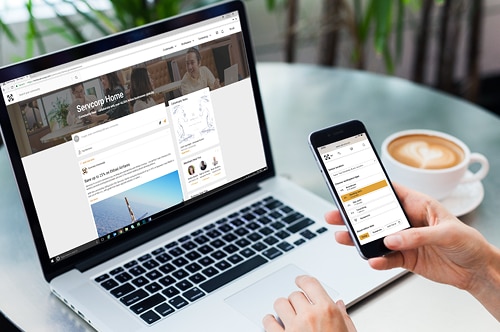 ---
Complete Meeting Room Services
Our meeting and conferencing facilities are fully equipped for every business requirement and event
We provide services and facilities for all types of meetings ranging from informal meet and greets, training sessions, department and team meetings, formal business negotiations and international.  Choose from among small, private offices with professional fit outs through to large training rooms, conference rooms and board rooms complete with start of the IT communications technology and in-house support team.
Our team of dedicated, professional personnel will attend to your clients and conduct them through to your meeting room offering a strong, professional environment and image for your business dealings. Servcorp meeting room's are available for to use on-demand with no lock-in contracts. We offer pay as you use flexibility so you can book your meeting room or conference space for just 10 minutes through to all day.
Meeting facilities
Servcorp's meeting and conference facilities provide you with everything you need to host a professional, 5-star client meeting. With a dedicated receptionist and administration team, your choice of locations in key business districts throughout Australia – as well as amongst 150+ global Servcorp locations – Servcorp's meeting facilities are available for all your meeting and conferencing requirements.
Training rooms
Servcorp's extensive range of premium professional services include fully serviced training rooms located in key business locations throughout Australia. Your next training event should be held in a central, convenient location for all attendees. You should enjoy a premium, uninterrupted service that includes industry-leading IT facilities and a fully trained team to ensure everything runs smothly.
Get email updates
Receive invites to Servcorp networking events in your area, new product releases, business reports, and special offers.